Today is
---

"Emotionally stimulating and great for Alz or dementia population. Uplifting but slow enough for Residents to follow."Lee Ann Ivy - Lifecare Center - Hilo Hawaii
---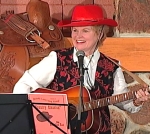 ---
"Our residents so enjoy your DVDs and really do believe that you are right in the room with us. Many who are unable to communicate are able to remember the words of the songs and sing along. It is a joy to watch!"
Kelly Scott
Spiritual Care Coordinator
Specialty Care Bradford Valley

Pricing available
on online forms
Melody Lane Sing Along Volume 8

---

Country Classics is 55 minutes of a fun filled hand clapping, foot stomping hoe-down featuring a country fiddler and an audience of cowboys and cowgirls! On-screen lyrics make joining in fun and easy!


---

1. Tennessee Waltz
2. Anytime
3. King of the Road
4. Could I Have .. Dance?
5. Hey Good Lookin'
6. Home on the Range
7. Paper Roses
8. Yellow Rose of Texas
9. Crazy
10. Red River Valley
11. Jambalaya
12. Green Grass of Home
13. Don't Fence Me In
14. Battle of New Orleans
15. You Are My Sunshine
16. Happy Trails to You!




---
Web Design: Kraeker Web Kreations
Best Viewed at 800x600 or 1024x768
---