Melody Lane Sing Along Videos will lift the hearts of the Seniors in your care and make them smile! In fact, anyone over 50 will enjoy these live performances of songs they used to listen to on the radio in their younger years, or sang with family and friends around the Christmas tree and even those special hymns from church.
With the words right on the screen and large print Songbooks that come free, everyone can join in the fun. A picture paints a thousand words; but a song can paint a thousand pictures and bring back a lifetime of memories. And now there are 12 DVD's filled with over 200 songs, countless pictures and scenes from around the world - all designed to make your singing and listening pleasure the best ever.
Georgina Rae has performed thousands of live programs for Seniors in hundreds of venues. Now through these videos, Georgina entertains Seniors in Canada, the U.S. and Australia! These colourful, lively videos also make Great Gifts for Seniors who will enjoy these wonderful concerts over and over again in the comfort of their own home.
Twelve Volumes to Choose From!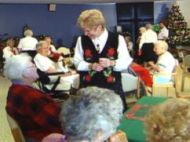 Features 100-150 images to
stimulate memory and conversation